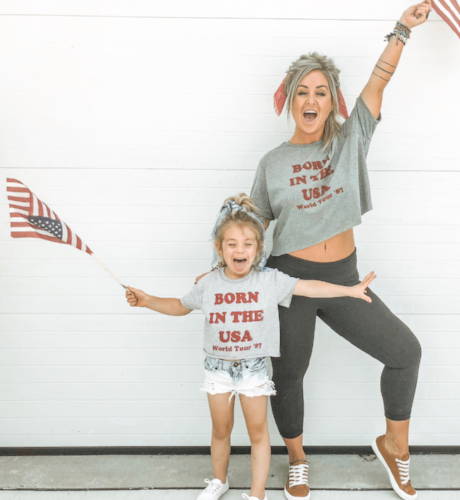 Pebby is a self-taught screen printer.
In her early twenties, she stumbled across a $40 screen printing kit at Michaels craft store. After purchasing the same multiple kits, it was try #3 when she burned her first screen successfully. Within 2 months of making her first round of hand drawn graphic designs that she screen printed onto tees, she was able to quit her full time job and work from a spare room in an apartment (that soon flooded over into the main part of the living room) filling orders that came from Etsy. Eventually, she was able to move into a rental house and turned the entire basement into her workshop and opened her own website. While she still fulfills orders from Etsy, the website now takes in most of the traffic. Along with being the head designer for the apparel, Pebby also began to sell and promote the items she used as props in her product photography. Now, the Pebby Forevee brand consists of handbags, denim, jackets, and accessories.
Because advertising your own business that can be a daunting and expensive experience that does not always pay in the end, Pebby also spent her time learning how to convert the mass amount of followers on her instagram into customers. Pebby now teaches entrepreneurs about once month on how to connect with their followers, gain potential customers, write captivating captions, and how to grasp and understand the algorithm in a workshop setting at Brick House Blue located in Dublin, Ohio.
Pebby has also come more into the social scene by becoming a local influencer. With her honest reviews and reactions, her genuine opinion captivates her followers. You may see her out and about hosting events, expressing her interest in beauty products or procedures.
Pebby is a mother to a happy 5 year old, has two sinister cats, and is always attempting to balance motherhood, maintain whats left of her social life, and grow her brand.
head printer + customer service
Nicole and Pebby found each other on instagram. (Proof that the algorithm works.)
With 95% of the sales from the site coming from Instagram, it's no surprise the connection between Pebby and Nicole is as close to a match made in heaven as there can be. As a local photographer, Nicole contacted Pebby for an opportunity to photograph tees on an upcoming vacation she was about to embark on. A few weeks later, and a long story short, Nicole joined the Pebby Forevee team and the rest is history.
Nicole's quick wit & sarcasm brings a lot to the team, as does her ability to catch on quick. It didn't take long before she was mastering screen printing and then also coming up with designs of her own. She is now the head screen printer of the company, overseeing what the additional employees do.
Nicole has a strong history in dance, a beautiful mane of hair (yes, that's really all hers!) and an adorable and sassy dog named Zoey who frequently visits the store with us.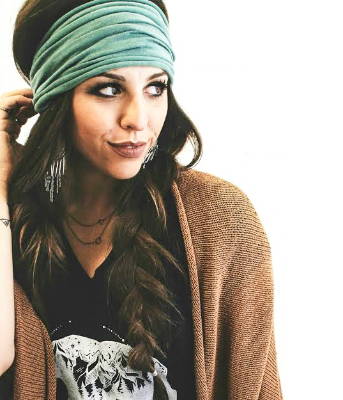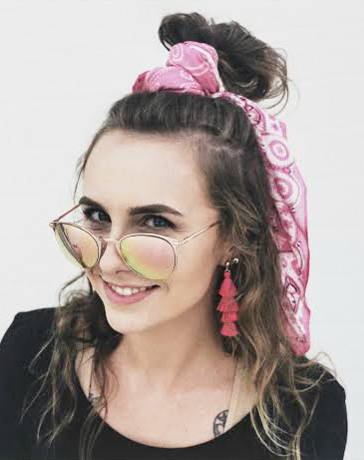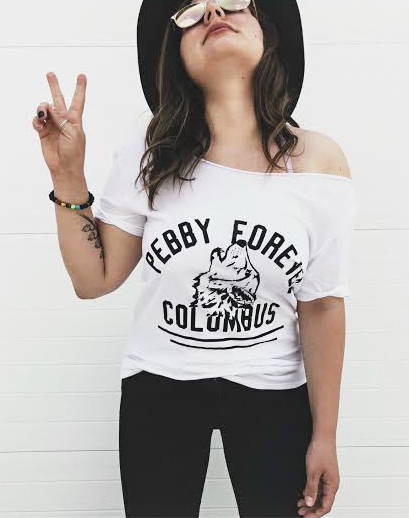 packaging + screen printing
Hallie + Hannah are part-time employees that have personalities.
Hallie is also a dance instructor and assists Nicole in screen printing.
Hannah is an entrepreneur that stays busy with her multiple creative outlets and assists with the packaging of outgoing orders.
---
I started the Pebby Forevee brand because I wanted getting ready for the day to be effortless. When I left with kid on my hip + coffee in hand, I needed to feel confident. And comfortable. We are a brand that allows you to choose your size ranging from S-XXL without having to sacrifice your personal style.
I taught myself how to screen print and we make almost everything right from my studio located in Columbus Ohio. I have an incredible team that helps me design, style, ship, and more right from our studio. Almost everything we sell is hand made by us and especially for you.
I'm also a mom with a vigorous passion for life. I prefer to show what life is really like, not just the complimentary highlights. Follow me on instagram to see the behind-the-scenes of life as a single mother who is running a business, trying to maintain a social life as a single parent, make it to the gym, slay my goals and try to obtain some sort of love life. I promise you, it's never boring. And... there are coupon codes... so win-win.
Can't wait to meet you!
-xo, Pebby